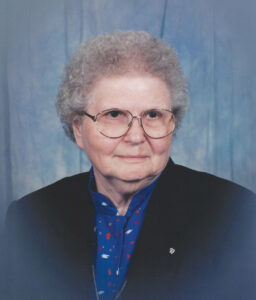 After the Second Vatican Council, the Wichita Province community went through many changes. Sisters needed a personal budget and retirement plan. They began to participate in Social Security. The province negotiated to refinance debt on the motherhouse, and initiated an annual audit of provincial finances.
These accomplishments were largely due to the vision and efforts of Sister Stella Rosenhamer who served as treasurer and was the person responsible for the physical and financial resources of the province from 1960 to 1982.
Early Years
Sister Stella Rosenhamer was born to August and Grace (Leamon) Rosenhamer in Wichita, Kansas on September 2, 1921. In her senior year at St. John's Academy, she entered the convent of the Adorers. Little did she realize that the business classes she took in high school would largely influence her ministry for the first 40 years of her life as a sister.
A Call from God
Sister Stella Rosenhamer confessed that this ministry in the initial years would not have been her personal choice. She had expected to be involved in hands-on ministry to people. However, the repeated assignment to accounting and medical records in hospitals in Oklahoma eventually led her to see this work as a call from God.
She continued to pursue further education in correspondence courses and in the business college in Enid and loved her life and her work there. After nearly 20 years in hospital accounting and records, Stella was called to be the province's treasurer.
Responsible Stewardship
She quickly became involved in the construction of a new facility for St. Joseph's Villa in David City, Nebraska, and with the realization of the Hospital Guadalupe in Belem, Brazil. In serving on the boards of the community's sponsored ministries, Sister Stella Rosenhamer was a consistent influence for responsible stewardship, for concern for the poor and helpless, and for a general involvement in areas of social justice.
In 1982, after 22 years as provincial treasurer, Stella became the foundress and administrator for 20 years of the Center of Hope in Wichita, a ministry that serves the poor.
For these many reasons, Stella holds a special place in the hearts of the Sisters, and the many people in Wichita who continue to support the work of the Center.
Stella died on November 3, 2010.