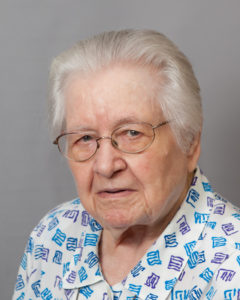 Sister Irene Schmidt, ASC died on Sunday, July 24, 2016, in Wichita, Kan. She was 98. For nearly 78 of those years, she was an Adorer of the Blood of Christ.
She was born July 16, 1918, at Liebenthal, Kan., to Jacob and Barbara (Schaeffer) Schmidt, the sixth of seven children who lost her father when she was 2.
As a child, she would pray the rosary outside in the summer, followed by a procession of the family's dogs, cats, chickens, and ducks.
Irene was taught by ASC sisters in grade school. She wove blankets for the Works Progress Administration program at La Crosse, Kan.
She entered the Adorers convent in Wichita at age 18 on Sept. 1, 1936, joining three siblings who had entered before her. She was the 19th woman from Liebenthal to join the Adorers.
Her mother, a widow, entered the community of the Holy Heart of Mary in Illinois several months later.
Irene professed first vows on Aug. 10, 1938, and final vows on July 1, 1943.
For nearly 40 years, she kept the house at the Wichita Center, Sacred Heart College, and Academy, at several hospitals, retirement homes, and an archbishop's residence.
She also supervised central supply at Mercy Hospital in Oklahoma City, did domestic work in Kansas, Oklahoma, New Mexico, and Texas, and worked as a nurse aide at the ASC Wichita Center.
She used to say that her life's work taught her what it means to be a servant to others.
She was preceded in death by her parents; her sisters Sister Martina ASC, Sister Valeria ASC, and Sister Barbara ASC; and her brothers Adolenius, Parenius, and William. She is survived by nieces, nephews, great-nieces, great-nephews, cousins, and her ASC community members.