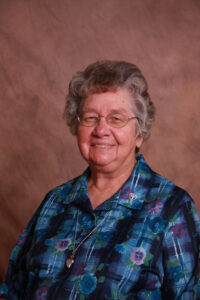 Sister Mary Linus (Martha Emma) Erzer, an Adorer of the Blood of Christ for 71 years, died Saturday, Sept. 24, 2016, at the Ruma Center, Ruma, Ill. She was 90.
She was born in Neier, Mo., one of seven children born to Otto and Anna (Ravo) Erzer. She made her first vows on July 1, 1945 and her final vows on July 1, 1950.
In elementary school, Martha was particularly inspired by Sr. Mary Genevieve King and Sisters Georgiana, Mary Bede and Leola Bolzenius, all Adorers. Martha always wanted to help people and she did so by cooking and keeping house for others.
Her service in Illinois reached both youth and the aged at Catholic Children's Home in Alton, St. Ann's Home in Chester, and St. Henry's Seminary in Belleville.
She served as a housekeeper in Illinois convents in Dahlgren, O'Fallon, Murphysboro, East St. Louis, St. Rose, Ruma and Red Bud. In addition, she spent 11 years at De Mattias Hall cooking and baking for sisters studying at Saint Louis University. She conscientiously prepared good meals, and delighted in offering them a surprise dessert.
When Sister Mary Linus returned to the Ruma Center, she enjoyed her hobbies of fishing, working puzzles and making candy.
Her enthusiasm and joy of living was particularly evident as she spent time with friends and family, especially her sisters and other relatives.
Sister Mary, as she was known in recent years, was preceded in death by her parents; two brothers, Walter and Otto, who died in early childhood or infancy; and her sisters and brothers-in-law Florentine (Albert) Schaefer, Adelle (Lester) Norvell, Marie (John) Beck and Jack Bergjans. She is survived by her sister Anna Mae Bergjans, many nieces and nephews, and her community of Sisters.