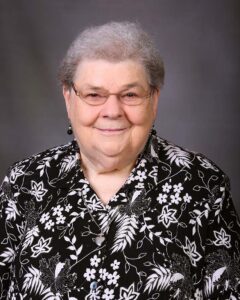 Sister Rita Robl, ASC, who spent her life teaching and helping others on their spiritual quest, died Sunday, November 15, 2020, at the Wichita Center, in Wichita, Kansas. She was 90 years old and had been a professed member of the Adorers of the Blood of Christ for 72 years.
Sister Rita was vibrant and full of wisdom and viewed life's challenges as opportunities to explore God's work in progress.
She was born during the Great Depression, on August 19, 1930, on a small wheat farm in Ellinwood, Kansas. At her home baptism, her mother draped her crib with wet towels to assist her breathing during choking dust storms that swept the region. She had a simple, poor, but happy upbringing, and attended a one-room schoolhouse before transferring to a Catholic school in a neighboring town.
She attended the Adorers' Sacred Heart Academy boarding school in Wichita, and entered the convent in 1946. She made final vows in July 1953. She earned a bachelor's degree in education from Kansas Newman College in 1957, and a master's from the University of Notre Dame in South Bend, Indiana.
Sister Rita taught upper grades in Kansas at All Saints in Wichita (1949-1955); St. Nicholas in Kinsley (1955-1960); St. Patrick in Plains (1960-1963); and St. Ann in Olmitz (1963-1964). She was principal at St. Eugene in Oklahoma City, Oklahoma (1964-1972) and Sacred Heart in Emporia (1972-1983).
While in Oklahoma City, a small faith crisis led her to explore charismatic renewal and eventually she became a leader in the movement.
In 1983, she opened Centro Sangre de Cristo spirituality center in Carlsbad, New Mexico, while studying spiritual direction in the summer in Pecos. The center was forced to close and she returned to Wichita, where she eventually opened Acuto Center for Renewal at Kansas Newman College and later at the Wichita Center.
Her last venture was the Great Plains Earth Institute, which she founded in 1997 and ran until her retirement in 2008.
Sister Rita Robl is survived by family, friends, and her Sister Adorers of the Blood of Christ.