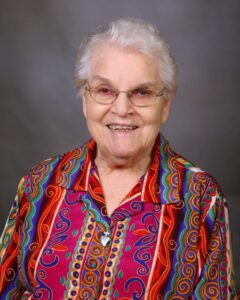 70 years as a vowed member of the Adorers of the Blood of Christ
Sister Rita made her first profession on July 1, 1950 and her final vows on July 1, 1955.
Sister Rita was born in Grinnell, Kansas, to Alexander and Mary Schwarz. She earned a bachelor's degree in elementary education from Sacred Heart College, now Newman University, in 1961. She received a master's degree in elementary guidance and counseling from the College of St. Thomas in St. Paul, Minnesota, in 1968, and a master's degree in religious education from St. Mary University in San Antonio, Texas, in 1976.
She spent almost 20 years as an elementary teacher, primarily in Kansas, including both St. Mary and St. Joseph schools in Offerle, Sacred Heart in Eureka, Windhorst in Spearville, St. Martin in Piqua, St. Joseph in Liebenthal and St. Mary in Aleppo. She served as principal and teacher at St. Joseph in Offerle. She also taught at Sacred Heart in Roggen, Colorado.
Sister Rita worked in the Office of Religious Education for the Diocese of Dodge City in Dodge City, Kansas; served as director of Religious Education at St. Patrick in Great Bend, Kansas, and at St. Helena in Hobbs, New Mexico. She also was the diocesan consultant for Religious Education and Media for the Diocese of Salina, Kansas. She spent several years as pastoral minister of St. John in Logan, Densmore and Phillipsburg, Kansas, and later as pastoral associate at St. Nicholas of Myra in Hays, Kansas. For several years, Sister Rita taught theology at Newman University.
Sister Rita was dedicated to the ASC Associate Program, evidenced by her service as co-director, then director for many years. She also served her community as provincial councilor and secretary for the former Province of Wichita. At the Wichita Center, she served a term as director for Community Life and Mission, a leadership role for the sisters residing there. She continues to assist with various duties at the Center where she is Living Mission in Later Life.