Sister, Nurse, Educator and Author Dies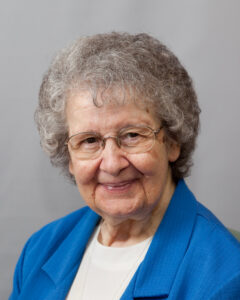 Sister Rose Therese Bahr, an Adorer of the Blood of Christ for 65 years, died Thursday, Feb. 18, 2016. She was 85.
She was born March 1, 1930 in Great Bend, Kan., one of five children and the first daughter of Frank William and Mary Victoria (Schneider) Bahr. She was baptized Mildred, and attended St. Ann Elementary and High School in Olmitz.
Education was so important to the Bahrs that they rented a house across from school so their children, cousins and neighbors wouldn't miss school in severe weather. Mildred's mother took her turn staying in town to care for the children.
After high school, she accepted the invitation of her chemistry teacher, Sr. Gertrude Bauman, to consider becoming an Adorer. In August 1948, she entered the Adorers in Wichita, Kan. Sr. Rose Therese professed her first vows on July 1, 1950 and her final vows on July 1, 1955.
She taught the first and second grades at St. Joseph's School in Ellinwood, Kan., before beginning her education in nursing. She earned her nursing diploma in 1954. Her first assignment was St. Francis Hospital in Carlsbad, N.M.
She later earned a bachelor's degree in nursing and a master's degree in nursing education administration, both at The Catholic University of America in Washington, D.C., and a doctorate in higher education at Saint Louis University. She was academic dean and professor at Newman University and professor at the School of Nursing at the University of Kansas and at The Catholic University of America.
During her academic career, she established a master's degree in gerontological nursing and wrote books including "Aging: A Holistic Perspective," published articles in professional nursing magazines and presented workshops, conferences and institutes. She was also a member of the Wichita Province leadership Team from 1992 to 1996.
Upon retirement in 2001, she wrote grants and raised funds for several Wichita social service agencies. She served four terms on the Newman University Board of Trustees and served on the board of eight other agencies.
Preceding her in death were her parents; her brothers Herman, Vernon and Frank, and her sister Francita, an Adorer. She is survived by nieces and nephews; cousins, including ASC Sisters Francella, Jeannine, Mary Ann, Teresa and Philomena Bahr; and her ASC community.
Sister Rose Therese's body will be welcomed at 2 p.m. Wednesday, Feb. 24, at the Wichita Center. A wake service will follow at 7 p.m. A funeral Mass will be celebrated at 10:30 a.m. on Thursday, Feb. 25, in the Chapel of the New Covenant. The Rev. Tom Welk will preside. She will be buried in the community cemetery.
---
Memorials in her honor may be made online by clicking here or sent to the Adorers of the Blood of Christ, U.S. Region, Mission Center, 4233 Sulphur Ave., St. Louis, Mo. 63109.