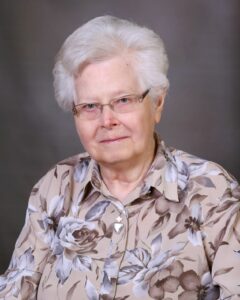 Sister Mary Jane Schrage died Saturday, September 19, 2020 at the Ruma Center in Ruma, Illinois. She was 85 years old and had been a professed Adorer of the Blood of Christ for 67 years.
She was born on August 14, 1935 in St. Rose, Illinois, one of six children in the family of the late William and Alma (Goestenkors) Schrage.
After teaching primary grades for two years at St. Bruno in Pinckneyville, Illinois, Sister Mary Jane pursued a degree and ministry in radiologic technology.
She earned a bachelor of science degree in radiologic technology in 1960 from Saint Louis University and later received various related certificates in the field.
She was radiology supervisor at St. Vincent (now Taylorville) Memorial Hospital in Taylorville, Illinois. For almost 30 years, she served at St. Clement (now Red Bud Regional) Hospital in Red Bud, Illinois, in radiology as diagnostic imaging director, and clinical instructor for students in radiology from Belleville Area College, now Southwestern Illinois College, whose classes were held at St. Clement. Her final ministry in this field was at St. John Mercy Medical Center in St. Louis in CT imaging and biopsy technology.
Sister Mary Jane was also an accomplished photographer of nature scenes. She indulged her passion at photography workshops at Acadia and Yellowstone national parks and at a ranch in Wyoming.
Sister Mary Jane retired from active ministry to the Ruma Center in 2013.
She is survived by her sisters, Anna Kampwerth and Victoria (Thomas) Book, and her brother Linus (Emilie) Schrage, nieces and nephews, and her ASC community.
Her parents; her brother William and his wife Verena Schrage; her sister Patricia and her husband Alphonse VonderHaar; and her brother-in-law Andrew Kampwerth preceded her in death.
She is buried in the Ruma Center cemetery.