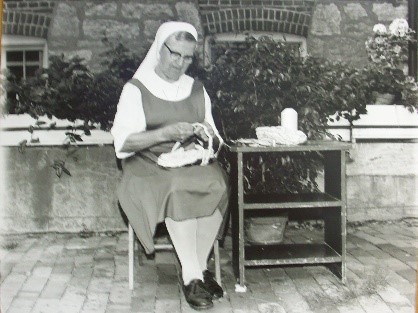 Sister Mary Edwin Haunss (Mary Elizabeth), the former Ruma province's last link to Germany, was born on September 17, 1901 in Hildmannsfeld Amt. Beuhl, Baden Germany.
Oldest of Ten
She was the oldest of 10 children of Anton and Paulina (Joerger) Haunss. She made first vows on August 5, 1924 and final profession on July 1, 1929.
Sister Mary Edwin Haunss' desire to join the Adorers of the Blood of Christ began in Germany on her family's farm where the strong Catholic atmosphere nurtured her faith and love of nature.
Reading the lives of the saints encouraged her to pray to find her own life's path. Answer to prayer appeared in the form of Sister Sophie Gartner who had come from America to visit her family.
Left Germany for America
Sister Mary Edwin Haunss and her friend, Sister Theodolinda Henssel, left Germany for America with Sister Sophie and landed in New York on November 2, 1922, spending the night at Leo House, the house of hospitality for newly arrived German immigrants.
It was hard to leave her large and close-knit family with whom she maintained ties, correspondence, and an occasional visit.
"Everything for God"
Sister Mary Edwin Haunss' motives for joining the community seem to have been two-fold: instead of teaching, she wanted to do housework and gardening in a congregation that would honor that desire, and she "wanted to give up everything for God," as she wrote in her autobiography.
After first vows, she began her ministry to her sisters and to some of the institutions they staffed; she worked as housekeeper and gardener in small houses, hospitals, the orphanage, the academy, and the provincial house.
Loved to Sing
Sister Mary Edwin Haunss provided for her sisters, orphans and hospital patients. Her love of singing, a gift from her family of singers, enriched her life. The many homemaking skills she had learned in Germany, such as making shoes from cornhusks, enhanced her service in her adopted country.
She became a U.S. citizen in 1931 between the two world wars involving her homeland.
Cornhusk shoes preserved in the Ruma archives most probably were made by her then-nimble hands.
Intelligent, talented, and unassuming, Sister Mary Edwin Haunss helped translate some of the community's German documents when she wasn't cooking or gardening.
A woman of deep faith and prayer, she wanted to bequeath to her sisters her strong devotion to the Sacred Heart and her desire that all know about this love.