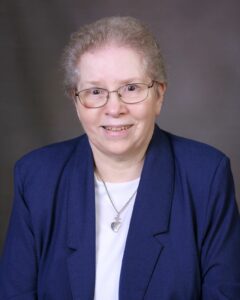 Sister Marian Russo, an Adorer of the Blood of Christ, died February 1, 2020 at the Ruma Center, Ruma, Illinois. She was 76 years old and had been a professed member of the Adorers for 51 years.
Sister Marian was born December 4, 1943 in Philadelphia, Pennsylvania, to Marian Alice Russo and Gaston Strenck. She and her brother, Arthur Russo, were raised by foster parents, Nellie and Manus McGinley. She made her first profession on July 1, 1968 and her final vows on Aug. 15, 1973.
Sister Marian held a bachelor's and a master's degree in business education, her undergraduate degree from De Paul University in Chicago in 1976 and her master's from Shippensburg University in Shippensburg, Pennsylvania in 1986.
She taught elementary school at St. Rochus in Johnstown, Pennsylvania and St. Jerome in Chicago, Illinois.
She taught typing, shorthand and bookkeeping at St. Joseph Academy in Columbia, Pennsylvania and also performed secretarial and office duties there for many years.
She also assisted the Provincial Secretary and the Director of the Precious Blood Spirituality Center in Columbia and served as archivist for the former province of Columbia.
For several years, Sister Marian worked as an administrative assistant with the Archdiocese of Chicago's Marriage Tribunal Office for Canonical Services. She also volunteered as a librarian in Mountville, Pennsylvania, and helped process Sisters' medical claims at the ASC Mission Center's finance office in St. Louis.
She is survived by her mother, Marian Alice Russo Steele, and her brother, Arthur Russo.
She was preceded in death by her foster parents, and also by her step-father, Harold Steele.
She is buried in the convent cemetery.