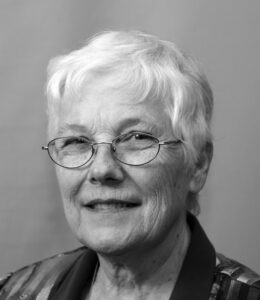 Sister Helen Ridder died Friday, Dec. 22, 2017. She was 82 years old and had been an Adorer of the Blood of Christ for 64 years.
She was born July 20, 1935 in Derby, Kansas, to John and Agnes (Abt) Ridder, the fifth of eight children.
Helen entered the Wichita ASC community on Jan. 1, 1952, and pronounced first vows on July 1, 1953, and permanent vows on July 1, 1958. She graduated from high school at Sacred Heart Academy in 1954. She earned a bachelor's degree in education at Sacred Heart College in 1962 and graduated from Kansas State Teachers College, Emporia, Kansas, in 1971, with a master's degree in education. For 21 years, she taught primary students, mostly in Kansas.
She did pastoral ministry for 11 years in Kansas, Nebraska, New Mexico and Texas, where she served rural areas in the Diocese of El Paso.
She supported citizens concerned about the burial of low-level nuclear waste near their agricultural towns, and ministered to survivors of a 1987 tornado that devastated Saragosa, Texas.
She spent a summer in Guatemala while the recently beatified Father Stan Rother was there.
In 1989, she was certified for family counseling and drug/alcohol rehabilitation and ministered in the Wichita Acuto Spirituality Center for seven years.
Helen worked at the environmental advocacy and education center, EarthWorks in Plymouth, Indiana, for three years.
In 2000, she worked for the Land Institute of Salina, Kansas, that studies and shares alternative agriculture methods.
There, she learned about the prairie, wrote a weekly newspaper column, and gave workshops that combined the prairie and spirituality.
She also enjoyed music, arts and reading.
Helen returned to the ASC Wichita Center in 2005, then retired there in 2013 and moved into Caritas Center in 2016.
Preceding her in death were her parents, her siblings Mary, Ester, Thomas, Lawrence, David, and Anita. She is survived by her brother Jerome, nieces, nephews, cousins, and her ASC community members.
Sister Helen's body will be welcomed at the Wichita Center at 2 p.m. on Dec. 26 with a wake service at 7 p.m. The Mass of Resurrection will be celebrated at 10:30 a.m. in the Chapel of the New Covenant with Fr. Tom Welk presiding. Burial in the community cemetery will follow.
---
Memorials in her name may be made online by clicking here or by mailing them to the Adorers of the Blood of Christ, U.S. Region Mission Center, 4233 Sulphur Ave., St. Louis, MO 63109.