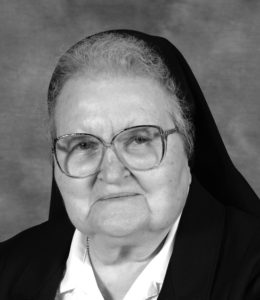 Sister Helen (Herman Jospeh) Panci, ASC, died on Monday, January 14, 2019, at St. Helene's Retirement Community in Columbia, Pennsylvania. She was 94 years old and had been a professed member of the Adorers of the Blood of Christ for 78 years.
Sister Helen was born on September 11, 1924, in Johnstown, Pennsylvania. She was the youngest of six children of the late Joseph Panci and Anna Kubis Panci and the youngest child in a foster family of nine. Sister Helen made her first vows on August 12, 1941, and her final vows on August 12, 1946.
She earned her bachelor's of education from Duquesne University in Pittsburgh, Pennsylvania in 1957, her LPN from Lancaster County Vocational School in Lancaster, Pennsylvania in 1978, and her Certificate of Pastoral Education (CPE) from Lancaster General Hospital in Lancaster, Pennsylvania in 1988.
Sister Helen taught elementary and middle school for 32 years in Pennsylvania, North Carolina, Georgia, South Carolina, and Ohio. In between her years of teaching, Sister Helen spent a combined 15 years nursing at various hospitals before switching to pursuing her CPE later in life. Her pastoral care work took her to Slovak where she combined her love of teaching and pastoral care for three years.
Fortified by the love and support of her birth family, her foster family, and the family of the Adorers, Helen was able to impact countless lives in her long-standing ministry as a teacher, as well as in service as sacristan, domestic worker, nursing care volunteer, and missionary. In the years that followed Sister Helen engaged in domestic work before entering living mission. It was in 2010 that her deteriorating health took her to St. Anne's Retirement Community in Columbia, Pennsylvania.
Sister Helen is survived by her nieces and nephews of her birth family and of her foster family, all of whom have stayed in contact with her.
She is buried in the Ruma convent cemetery.