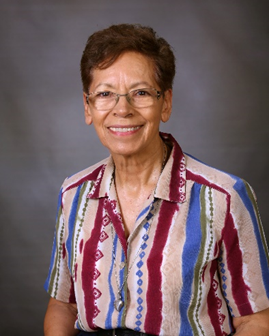 Sister Esperanza Razura Villarreal, ASC, passed to eternal life at 10:09 a.m., August 2, 2023, in Caritas Center, Wichita, Kansas. She was 83 years old and had been professed as an Adorer of the Blood of Christ for 39 years.
Sister Esperanza was born on December 17, 1939, in the rural community of Tequepexpan Nayarit, Mexico. She was the seventh of ten children of Pablo Razura and Irene Villarreal.
In a paper she wrote as a student, Sr. Esperanza described how her parents were significant in her faith formation and her vocation as a woman religious. The family prayed together every morning. God's presence in the Eucharist extended into daily life, in family struggles, and serious illness. She wrote, "During these struggles, faith united us to trust in God's providence. It was at home where I experienced God beyond things that I could not understand and see different situations with the eyes of my inner self." It was at home that she also learned about God's love manifested in Jesus and His love for the poor.
At 15, Esperanza was the youngest person in a group of women making retreat when she first expressed her desire to join a religious community. Even though her parents prayed that each of their children would find the right vocation, her father was initially reluctant to give his support because of her youth. Since her parents also reminded their children to trust in God, it was with tears and determination that she left home at 18 to join an Augustinian community in San Luis Potosi, Mexico.
Sister Esperanza worked with children in several cities in Mexico before coming to the United State, first to California. While doing domestic work in a seminary in Washington, DC, she started attending meetings of Hispanic women religious. There she learned about the needs of Hispanics in the U.S. Gradually, she came to discover that God was calling her to work with the Hispanic community.
Sister Esperanza had an initial experience of Hispanic ministry at St. Alphonsus Parish in San Antonio, TX. While it confirmed her desire to do something more in ministry, it also created a challenge. In her own words, "The responsibilities with my [Augustinian] religious community did not allow for exploring this new desire…I did not want to leave the sisterhood; I was just not content with where I was. I had a want and a desire to work with my people."
While studying at the Mexican American Cultural Center in San Antonio, Sr. Esperanza became acquainted with the Adorers of the Blood of Christ. She felt a connection to the ASC charism and saw expanded opportunities for ministry within Hispanic communities. She eventually received a dispensation from the diocesan Augustinian community and entered the ASC community in January, 1982. Sister Esperanza began novitiate October 20, 1982. She pronounced first vows on November 24, 1983 and made perpetual vows on August 23, 1987 in Hobbs, New Mexico where she was serving at Our Lady of Guadalupe parish.
Her initial experience in parish ministry confirmed Sr. Esperanza's need for adequate preparation for her new ministry. She completed the diploma program in pastoral studies from the Mexican American Cultural Center, followed by undergraduate and graduate degrees in Religious Studies at Incarnate Word University, both in San Antonio, TX.
Except for a year at Our Lady of Perpetual Help in Wichita and five years in Hobbs, New Mexico, Sr. Esperanza's ministry was all in Texas. She served at St James, San Antonio; Sacred Heart, Coleman; St Mary's Fredericksburg; St. s Stephen, Midland; Sts. Peter and Paul, El Paso; Our Lady of Miracles, Sierra Blanca and three parishes making up the Catholic Churches of South Odessa. She served in different positions, pastoral associate, director of religious education, and coordinator of adult faith formation. She worked with children, youth and adults, prepared families for baptism, gave retreats, educated CPR teachers, and catechized adults.
Sister Esperanza retired to the Wichita Center in early January, 2020, and helped with various tasks until health issues robbed her of much of her physical strength. In spite of distance, Sr. Esperanza remained close to family. It was with gratitude that an improvement in health allowed her to visit her brother and relatives in California a few months ago. Her gentle, friendly and peaceful demeanor drew many lifelong friends to her side.
Recently she enjoyed visits from former parishioners with whom she's worked in Texas and knew from Our Lady of Perpetual Help Parish, Wichita. Sister's health had improved such that her niece Tere Andrio Razura from Mexico, spent a week with her praying, visiting, reminiscing, and with Tere's help, connected Esperanza with family members in Mexico via face-time. In the last weeks of her life, Sr. Esperanza said she was offering her sufferings for those who are most in need. Many sisters from her community stayed with her throughout her final days. Her niece Maria Isela Beltran Razura and Sr. Josie Mendoza were with her when she passed.
Preceding Sr. Esperanza in death were her parents, Pablo and Irene, and her siblings Felipa, Rosa Maria, Juan Jose, and Merced. She is survived by her siblings, Pablo, Roberto, Jose Luis, Lupita, and Socoro, in addition to numerous nieces and nephews and community members of the Adorers of the Blood of Christ.
Her body will be returned to the Wichita Center on August 5, 2023, first to Caritas Center at 9:30 a.m. and then to the Woman of the New Covenant Chapel at 10: 00 a.m. for the Wake service followed by Mass of Christian Burial at 11:00 a.m. Fr. Marco Antonio, pastor at Our Lady of Perpetual Help, will serve as the presider.
Sr. Esperanza reflects on how God has blessed her years in ministry – Esperanza Razura clip_1.mp4
Sister Esperanza, we remember you as a woman of great faith and prayer. You were tireless in sharing your own faith and encouraging others to grow in their relationship with God. Now you are forever in the Presence of the One you served so faithfully.
Donations in memory of Sister Esperanza may be sent to the Adorers at 4233 Sulphur Avenue, St. Louis, MO 63109, or made online at www.adorers.org
Adorers of the Blood of Christ
United States Region
August 2, 2023
La Hermana Esperanza Razura Villarreal, ASC pasó a la vida eterna el 2 de Agosto de 2023 en el Centro de Caritas en Wichita, Kansas. Tenía 83 años y había profesado como Adoradora de la Sangre de Cristo durante 39 años.
Esperanza nació el 17 de diciembre de 1939 en la comunidad rural de Tequepexpan Nayarit, México. Fue la séptima de diez hijos de Pablo Razura e Irene Villarreal.
En un artículo que escribió como estudiante, la Hermana Esperanza describió cómo sus padres fueron importantes en su formación de fe y su vocación como religiosa. La familia oraba junta todas las mañanas. La presencia de Dios en la Eucaristía se extendió a la vida cotidiana, a las luchas familiares y a las enfermedades graves. Ella escribió: "Durante estas luchas, la fe nos unió para confiar en la providencia de Dios. Fue en casa donde experimenté a Dios más allá de las cosas que no podía entender y ver diferentes situaciones con los ojos de mi ser interior."Fue en casa donde también aprendió sobre el amor de Dios manifestado en Jesús y Su amor por los pobres.
A los 15 años, Esperanza era la persona más joven de un grupo de mujeres que hacían un retiro cuando expresó por primera vez su deseo de unirse a una comunidad religiosa. A pesar de que sus padres oraron para que cada uno de sus hijos encontrara la vocación correcta, su padre inicialmente se mostró renuent a brindar su apoyo debido a su juventud. Como sus padres también les recordaron a sus hijos que confiaran en Dios, fue con lágrimas y determinación que dejó su hogar a los 18 años para unirse a una comunidad Agustina en San Luis Potosí, México.
Esperanza trabajó con niños en varias ciudades de México antes de venir a los Estados Unidos, primero a California. Mientras hacía trabajo doméstico en un seminario en Washington, DC, comenzó a asistir a reuniones de religiosas hispanas. Allí aprendió sobre las necesidades de los hispanos en los Estados Unidos. Gradualmente descubrió que Dios la estaba llamando a trabajar con la comunidad hispana.
Esperanza tuvo una experiencia inicial de ministerio hispano en la Parroquia de San Alfonso en San Antonio, TX. Si bien confirmó su deseo de hacer algo más en el ministerio, también creó un desafío. En sus propias palabras ," Las responsabilidades con mi comunidad religiosa [agustina] no permitieron explorar este nuevo deseo…No quería dejar la hermandad; simplemente no estaba contenta con dónde estaba. Tenía un deseo y un deseo de trabajar con mi gente."
Mientras estudiaba en el Centro Cultural Mexicano Americano en San Antonio, la Hermana Esperanza conoció a los Adoradores de la Sangre de Cristo. Sintió una conexión con el carisma de ASC y vio oportunidades ampliadas para el ministerio dentro de las comunidades hispanas. Finalmente recibió una dispensa de la comunidad agustina diocesana y entró en la comunidad ASC en enero de 1982. Esperanza comenzó el noviciado el 20 de octubre de 1982. Pronunció sus primeros votos el 24 de noviembre de 1983 e hizo votos perpetuos el 23 de agosto de 1987 en Hobbs, Nuevo México, donde servía en la parroquia de Nuestra Señora de Guadalupe.
Su experiencia inicial en el ministerio parroquial confirmó la necesidad de la Hermana Esperanza de una preparación adecuada para su nuevo ministerio. Completó el programa de diploma en estudios pastorales del Centro Cultural Mexicano Americano, seguido de títulos de pregrado y posgrado en Estudios Religiosos en la Universidad del Verbo Encarnado, ambos en San Antonio, TX.
Excepto por un año en Nuestra Señora del Perpetuo Socorro en Wichita y cinco años en Hobbs, Nuevo México, el ministerio de la Hna. Esperanza fue todo en Texas. Sirvió en St James, San Antonio; Sagrado Corazón, Coleman; Fredericksburg de Santa María; San Esteban, Midland; Santos Pedro y Pablo, El Paso; Nuestra Señora de los Milagros, Sierra Blanca y tres parroquias que componen las Iglesias Católicas del Sur de Odessa. Se desempeñó en diferentes puestos, asociada pastoral, directora de educación religiosa y coordinadora de formación en la fe de adultos. Trabajó con niños, jóvenes y adultos, preparó a las familias para el bautismo, dio retiros, educó a maestros de RCP y catequizó a adultos
Esperanza se retiró al Centro de Wichita a principios de enero de 2020 y ayudó con varias tareas hasta que los problemas de salud le robaron gran parte de su fuerza física. A pesar de la distancia, la Hermana Esperanza permaneció cerca de la familia. Fue con gratitud que una mejora en su salud le permitió visitar a su hermano y familiares en California hace unos meses. Su comportamiento gentil, amistoso y pacífico atrajo a muchos amigos de toda la vida a su lado. Recientemente disfrutó de las visitas de antiguos feligreses con quienes ha trabajado en Texas y conocía de Nuestra Señora de la Perpetua
Ayuda a Parish. La salud de la hermana había mejorado tanto que su sobrina Tere Andrio Razura de México, pasó una semana con ella orando, visitando, recordando, y con la ayuda de Tere, conectó a Esperanza con miembros de la familia en México a través del tiempo cara a cara. En las últimas semanas de su vida, la Hermana Esperanza dijo que estaba ofreciendo sus sufrimientos por los más necesitados. Muchas hermanas de su comunidad se quedaron con ella durante sus últimos días. Su sobrina María Isela Beltrán Razura y su hermana Josie Mendoza estaban con ella cuando falleció.
Precediendo a la hermana Esperanza en la muerte estaban sus padres, Pablo e Irene, y sus hermanos Felipa, Rosa María, Juan José y Merced. Le sobreviven sus hermanos, Pablo, Roberto, José Luis, Lupita y Socorro, además de numerosos sobrinos y miembros de la comunidad de los Adoradores de la Sangre de Cristo.
Su cuerpo regresó al Centro de Wichita el 5 de agosto de 2023, primero al Centro de Caritas a las 9:30 a. m. y luego a la Capilla de la Mujer del Nuevo Pacto a las 10:00 a.m. para el servicio de Velatorio seguido de la Misa de Entierro Cristiano a las 11: 00 a. m. El Padre. Marco Antonio, párroco de Nuestra Señora del Perpetuo Socorro, sirvió como presidente.
Hermana Esperanza, te recordamos como una mujer de gran fe y oración. Fuiste incansable al compartir tu propia fe y alentar a otros a crecer en su relación con Dios. Ahora estás para siempre en la Presencia de Aquel a quien serviste tan fielmente.
Adoradores de la Sangre de Cristo
Región de Estados Unidos
August 2, 2023