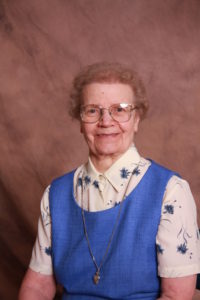 Sister Emma Goeckner, ASC, a professed member of the Adorers of the Blood of Christ for 72 years, died Monday, August 27, 2018, at the Ruma Center, Ruma, Illinois. She was 88 years old.
Born on June 9, 1930, she was the youngest of nine children in the family of William and Rosa (Probst) Goeckner in Bishop Creek, Illinois. Her five sisters also became Adorers.
Sister Emma earned a certificate in food service supervision from Fontbonne College in St. Louis and worked in dietary for more than 60 years. She worked in small convents in Vienna and Zell, in Missouri; in Olney, Illinois; and Fort Dodge, Iowa.
She supervised kitchens in such large institutions as the Catholic Children's Home in Alton, St. Henry Seminary in Belleville, St. Teresa Academy in East St. Louis and the Ruma Center, in Illinois, and at De Mattias Hall, the House of Studies for Adorers, and other sisters on the campus of Saint Louis University.
Sister Emma was one of the last of the regular quilters at Ruma and helped produce an enormous number and variety of quilts over the years. She also did needlework and enjoyed card games, reading, and her prayer life.
Sister Emma was preceded in death by her parents; her step-mothers Clara Willenborg and Elizabeth Koester; her brothers William, Alphonse, and Norbert (Eleanor); her sisters and fellow Adorers Mary Jerome, Mary William, Martha, and Adella; and step-sister Virginia Koester.
She is survived by her sister Laura, an Adorer, and nieces and nephews.
She is buried at the Ruma Center cemetery.