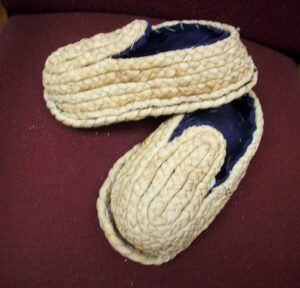 Walking the gangplank to board a ship and steaming toward an unknown land was a voyage of faith. Sister Antonia Strittmatter, joined by Sister Clementine Zerr and nearly 50 others left for the United States on Aug. 26, 1873. At the time, Antonia was 42 and a professed member of the congregation for 18 years. She left only a signature in a Ruma canonical register as primary evidence of her many years as an Adorer.
Early Life
Born in the village of Goerwihl, Germany on April 5, 1830, she entered the community at Ottmarsheim on Sept. 25, 1853, five years after the community joined the Italian Adorers. Clementine Zerr, who was to become the first leader of the Ruma Province of Adorers, had joined the community a year earlier.
They were great friends who supported and respected each other until Clementine's death on Jan. 24, 1906. Two years older than Clementine, Antonia would be a constant presence at Ruma while Clementine traveled to push the pioneering Adorers ever westward.
In Ottmarsheim, the Sisters' lifestyle was that of a contemplative community. The decision to send Antonia to Rappolsweiler for advanced study of French so that she could teach indicates the community's movement from the contemplative to the active life which was already deeply part of the Italian Adorers. The community would benefit from Sisters who could read the French translation of the Rule in these beginning stages of a move toward becoming an international community. Antonia returned from study, only to move to Gurtweil on Jan. 28, 1858 to begin teaching a group of orphans. Her native skill as a craftsperson served the community. Her talents in weaving and cloth dyeing and her ability to make slippers from cornhusks became part of her teaching repertoire. In the United States, she was a quiet, strong, background presence, friend and confidante of Clementine.
Life in America
Shortly after their arrival in St. Louis in September 1873, Antonia, Clementine, Theresa Billarz, Sophie Ruef and the novices left for Belle Prairie, Illinois. In 1875, when Clementine separated from the community gathered in O'Fallon for the dedication of the motherhouse, Antonia, Theresa and Sophie went with her; they were part of the group who moved to Ruma on July 6, 1876. Every skill, talent, craft, and bit of intelligence that Antonia had would be called to center stage during the 21 years she spent in Ruma. Antonia's hard, unending work at weaving and other household tasks helped provide a financial cushion for the struggling community.
The Ruma Sisters made public vows on Aug. 5, 1881. Antonia signed the Register, the one primary-source legacy she left. (There is no photograph of her.) From 1881 until her death in 1907, Antonia would have witnessed the acceptance of the orphanage in Alton in 1883, the building of St. Teresa Academy in 1894, and the opening of St. Clement's Hospital in 1900.
Her Legacy
Antonia, who one might call a workaholic, was motivated by her concern and prayers for the community. By the time this German immigrant had died of pneumonia on Dec. 22, 1907, she already had become a legend of thrift, hard work and self-effacement. She had strong faith and assumed a background but steady role in the history of the province.
Individual though she was, individuality was not something she cultivated. She is one of the strong, early pioneers who left us little but their faith, love of the community, and collective memories.