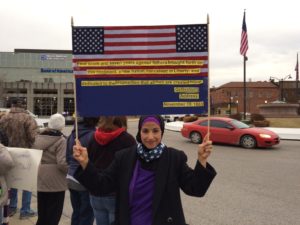 The founding sisters of the U.S. Region of the Adorers of the Blood of Christ migrated to the United States in 1870 at a time of religious intolerance in Europe.
As a community of religious women, proud U.S. citizens and faithful voters, we stand with those who must leave their homeland in search of a safe and secure place to live. We believe in the human dignity of all people, including immigrants and refugees, and we support our country's long tradition of offering them welcome.
We renounce President Trump's executive order on immigration that temporarily bans travel from seven Muslim-majority countries. We ask for the order to be repealed to allow refugees who already have been vetted, provided necessary documentation and paid for their visas to enter this country.
We implore the president to preserve and protect American values of human rights, the rule of law, family reunification and compassion for those needing a safe haven from danger. We desire reform of our immigration laws so that they are humane and provide a path to citizenship.