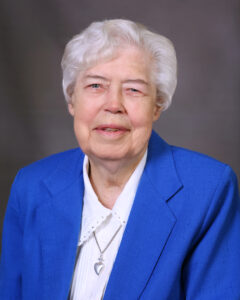 Sister Georgia Kampwerth, ASC, died Tuesday, October 26, 2021, at the Ruma Center. She was 88 years old and had been a professed member of the Adorers of the Blood of Christ for 68 years.
Sister Georgia was one of seven children born to George H. and Josephine Wilke Kampwerth of St. Rose, Illinois.
She received her registered nursing degree from DePaul Hospital School of Nursing in St. Louis, Missouri in 1958, her bachelor of science degree in nursing from Viterbo College in La Crosse, Wisconsin in 1972, and her master of science degree in health services administration from the College of St. Francis in Joliet, Illinois in 1985. She also earned a certificate in corporate ministry from Saint Louis University in 1989.
She was a nurse supervisor for 11 years, a nursing administrator for 16, and a nursing director of senior sisters for eight years. She later worked as a teacher's aide at St. Henry Day Care in Belleville, as a social service assistant at St. Paul Nursing Home in Belleville for eight years, and as a hospital volunteer for 10.
She worked in the Illinois hospitals of St. Vincent (now Taylorville) Memorial in Taylorville; St. Clement (now Red Bud Regional) in Red Bud; Clementine Residence in Red Bud and the Ruma Center in Ruma, and as a volunteer at St. Elizabeth's Hospital in Belleville.
When she retired to the Ruma Center, she volunteered for various duties.
She enjoyed her friends and local community, was a Chicago Cubs fan, and had a terrific memory.
Her parents; her brother, George; her sisters Antoinette (Richard) Kapp, Emerentia Kampwerth and Sister Rita Kampwerth, ASC preceded her in death.
Her sisters Jane Frances Jansen and Ann Alberternst, nieces, nephews, and the ASC community, survive her.
Sister Georgia's body was welcomed to the Ruma Center on Friday, Oct. 29, 2021.
A Liturgy of the Word with Communion and Blessing of the Body was held Saturday, October 30 for sisters at the Ruma Center, followed by the Rite of Committal and Burial at the convent cemetery.
A Memorial Mass attended by family and friends will be held at a later date.