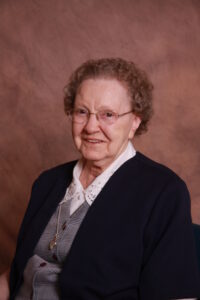 Sister Wilfreda Kern, an Adorer of the Blood of Christ, died May 12, 2016, at the Ruma Center in Ruma, Ill. She was 95 and had been an Adorer for 77 years.
She was born April 26, 1921, in Red Bud Ill., the oldest of Christian and Ellen (Kelley) Kern's eight children. She made her first vows on July 1, 1938, and final vows on July 1, 1943.
Sister Wilfreda baptized Rosalie, received a bachelor's degree in 1961 and a master's degree in 1967, both in education from Saint Louis University. She was certified to teach in Illinois, Iowa, and Missouri.
A dedicated teacher, Sister Wilfreda described her students as "so wholesome and eager to learn. They seemed so appreciative of whatever was done for them."
She taught primarily seventh- and eighth-graders for 56 years, mostly in Illinois, but also in Fort Dodge, Iowa; Vienna, Mo.; and St. Louis, and for 10 of those years, she did double-duty as teacher and principal. In Illinois, she taught in O'Fallon, Lively Grove, Herrin, Evansville, Flora, Albers, East St. Louis, and Alton. She also played the organ and directed the choir in parishes.
She served her community of sisters in Ruma by assisting the treasurer, helping the sacristan, leading prayers for the older sisters, and assisting the director of community life and mission at the center.
She was conscientious about her teaching ministry, keeping an orderly and organized classroom, and earning the fondness of her students and their parents.
In her later retirement years at the Ruma Center, Sr. Wilfreda enjoyed reading, listening to music, sewing, and taking long walks admiring nature. She found inspiration for her prayer in flowers, trees, and gardens.
She was preceded in death by her parents; her sister Helen Schlotmann; her brothers Leo, Joseph, Simon, and James.
She is survived by Sister Teresita and Sister Lucille, both members of the Adorers of the Blood of Christ, and many nieces and nephews.