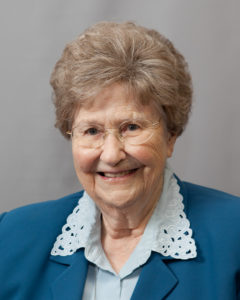 Sister Sylvana Schulte, an Adorer of the Blood of Christ for 75 years, died Sunday, Aug. 28, 2016, at the Wichita Center in Wichita, Kan. She was 91.
She was born Jan. 11, 1925, in Windthorst, Kan., one of eight children in the family of Rudolf and Frances (Droste) Schulte. She made her first vows on Aug. 10, 1941, and her final vows on Aug. 28, 1946.
Sister Sylvana, baptized Agnes Mary Anna, earned a bachelor's degree from Marymount College, Salina, Kan., in 1957 and a master's degree in education from Creighton University, Omaha, Neb., in 1962.
Her teaching career of 30 years began at St. Joe, Ost, Kan., extended to schools in New Mexico and Oklahoma and often included being the principal. She also served as superintendent of Catholic Schools in  the Dodge City (Kan.) Diocese.
Sister Sylvana was introduced to working in health care when she was missioned early in her religious life to Stillwater Oklahoma Municipal Hospital. After many years of teaching elementary school, she completed an executive development program at Saint Louis University Hospital and then began a 13-year ministry as administrator of St. Mary's Hospital, Enid, Okla.
She served the ASC community as scholastic director, councilor on the leadership team, and coordinator of hospitality. She traveled to Alaska in1967 with another Adorer to research the feasibility of starting an Alaskan mission.
She retired to the Wichita Center in 2010 where she appreciated the time for praying, reading, listening to classical music, playing cards, and visiting with friends and relatives.
She was preceded in death by her parents, her sister Margaret, and her brothers Henry, Bernard, Joseph, John, Raymond, and Clarence. She is survived by sisters-in-law, many nieces and nephews, great-nieces and great-nephews, and her ASC community.