'Gentle, Loving' Health Minister Dies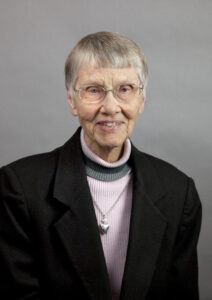 Sister Marciana Heimann, ASC, died Friday, April 20, 2018 at the Ruma Center in Ruma, Ill.
She was born on March 1, 1928, the second of four children in the family of Herman and Rosa (Richter) Heimann of New Baden, Ill. She was 90 years old and had been a professed member of the Adorers of the Blood of Christ for 71 years.
Sister Marciana, who had dual bachelor's degrees from Saint Louis University in nursing and physical therapy, spent most of her ministry in health care. She headed the physical therapy department at St. Vincent (now Taylorville) Memorial Hospital in Taylorville, Ill., for 24 years, before working for Visiting Nurses Association in St. Louis, and Regina Cleri, a home for retired priests of the Archdiocese of St. Louis.
She also served as the former Ruma Province health coordinator and director of nursing relief.
Sister Marciana later spent 17 years visiting the sick and shut-in members of the parish of Our Lady of Mount Carmel in Herrin, Ill.
She was known as a gentle, loving, person-oriented minister and became an essential part of the lives of the patients she visited.
Sister Marciana is survived by her brother, Arnold (Mary) Heimann, step-sister Alice Zurliene, step-sisters-in-law Jane, Vera and Dolores Netemeyer, nieces, nephews and the ASC community.
She was preceded in death by her parents and many of her siblings and half-siblings.
Visitation for Sister Marciana will be from 5 to 8 p.m. Tuesday, April 24, 2018 in the Ruma Chapel, with a prayer service at 7 p.m. Visitation will continue from 8 to 10:45 a.m. on Wednesday, April 25 in the Chapel, followed by the funeral liturgy at 11 a.m. Burial will be in the Ruma Center cemetery.
Donations in memory of Sister Marciana Heimann may be sent to the ASC Retirement Fund, 4233 Sulphur Avenue, St. Louis, MO 63109 or online by clicking here.