Former Teacher, Musician Dies at 101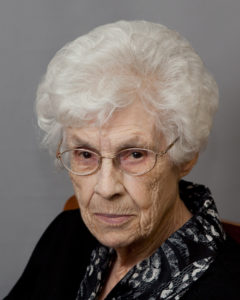 Sister Verena Gunzelman, ASC died Thursday, March 30, 2017 at the Wichita Center. She was 101 years old and had lived 83 years as an Adorer of the Blood of Christ. She was born and baptized in Aleppo, Kan. Her parents Peter and Mary (Betzen) Gunzelman later moved the family to Garden Plain, Kan.
Verena's love for music was encouraged by her father who bought her a piano and arranged for lessons when she was only in fifth grade.
She entered the ASC community in 1931, at the age of 16, a member of the third group of postulants for the newly established Wichita Province. She pronounced first vows on Aug. 2, 1933 and final vows on Aug. 10, 1938.
Sister Verena earned her bachelor's degree in Music Education from Alverno College in Milwaukee, and her master's degree from Notre Dame University in Indiana.
Her 40-year ministry in education was located in Kansas, Nebraska, Oklahoma and Missouri. Her students ranged in age from primary children to senior citizens. Her additional duties included giving piano lessons, serving as principal, organist and choir director.
During the next 20 years, Sister Verena's ministry consisted of pastoral services in several parishes. She gravitated to people who needed music in their lives: in hospitals, in hospice care, at home alone, in retirement homes, in prison and with the Harvest House Singers whose membership came from 18 parishes in the Diocese of Wichita. She occasionally found time to paint on canvas; for her, art was another means to show God's goodness.
Sister Verena retired to the Wichita Center in 1998 but never retired from speaking friendly words, understanding suffering, cherishing beauty, and opening her heart to those who surrounded her. She believed that both ordinary and special occasions provided mutual support through attentive conversations, shared memories, and reflective silences. She felt that music infused all these aspects with renewed energy. At her 95th birthday, following the singing of "Happy Birthday," she sang back, "I thank you, I do," finishing with a bow. She recently celebrated her 101st birthday with family and her ASC sisters.
Preceding her in death were her parents, her sister Helen, her brothers Hilary, Aloysius, Linus and Rene. Sister Verena is survived by nieces, nephews, other family members, and her ASC community.
Sister Verena's body will be welcomed at the Wichita Center at 2 p.m. on Sunday, April 2, followed by a wake service at 7 p.m.
The Mass of Christian Burial will be celebrated at 10:30 a.m. on Monday, April 3 in the Chapel of the New Covenant with Father Tom Welk, CPPS, presiding.
---
Donations in honor of Sister Verena may be sent to the Adorers of the Blood of Christ, U.S. Region Mission Center, 4233 Sulphur Avenue, St. Louis, MO 63109, or they can be made by clicking here.