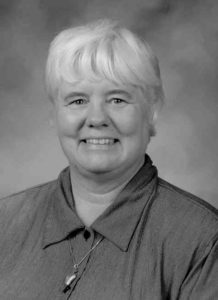 By Sister Janis Yaekel, ASC
It has been a while since I wrote my last blog but I have been dealing with new medical issues that have sidelined me. In mid-March, I had what seemed to be a stroke. For a couple of days, I couldn't remember anything.
I spent about 10 days in the hospital for tests, which showed that I hadn't had a stroke after all, but rather, a reaction to medications. Those meds, combined with the fact that my liver was not functioning properly, created the perfect storm. I am doing much better now and hope that I don't experience this reaction again.
I am now back on chemotherapy and hope that I can continue with treatments. At this point, the cancer is stable and I hope it stays that way.
Now that I am feeling better, I am enjoying the beauty of spring. The grass is so green and the winter wheat fields are lush. The redbud trees are blooming and the tulips are bright and beautiful. The bluebirds are beginning to build their nests and various birds come to our feeder. In my heart, I feel spring rising as well and I am grateful for the time that I can get out into nature.
For those of the Christian tradition, these days of Easter are sacred for their message of hope and joy.
It is my hope that these holy days will renew my spirit and bring celebration to each heart that takes part in this holy season.
---