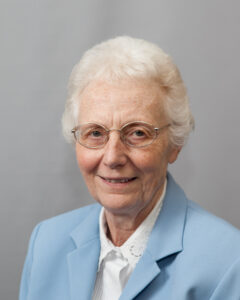 Sister JoAnn Mark likes a challenge and she begins a new one this week.
On Easter Sunday, the 74-year-old left Wichita, Kan., for New York City, where she will head the Partnership for Global Justice. The non-government organization that consults to the United Nations has floundered a bit without a director for the last year.
Mark hopes to get it back on track, increase membership, and raise awareness and funding for projects. She served on its board for nine years.
The organization got its start in the 1960s as a way for lay people to educate religious sisters about global issues. Eventually, religious women more attuned to Catholic social teaching took it over. Today, it's a mix of lay people and religious women.
The Partnership for Global Justice advocates issues to the United Nations and educates about human rights and other global concerns. Mark already is talking to educators about incorporating those topics in curriculum at the junior high, high school and college level and will be seeking grants to support the curriculum.
She's already at work planning a fall membership meeting.
Mark, who has a doctorate in math and higher education and taught English in Tanzania, has spent much of her life in the academic world, most recently at Newman University, but has always had an interest in social issues.
"I enjoy challenges," she said, "doing something new."