(On Jan. 19, 2018, our attorney, Dwight Yoder, argued before a three-judge panel in the 3rd Circuit Court of Appeals in Philadelphia in our religious freedom lawsuit against Williams/Transco Pipeline and the Federal Energy Regulatory Commission. This is a David versus Goliath moment, for sure, but we trust the court will take a good look at our case and see that our slingshot, the 1993 federal Religious Freedom Restoration Act, prohibits government intrusion into our free exercise of religion.)
---
PHILADELPHIA _ If anyone thinks sisters live quiet, uneventful lives, they have not met the Adorers of the Blood of Christ or heard about our resistance to the forced placement of a 42-inch high-pressure fracked gas pipeline on our farmland in Lancaster County, Pennsylvania.
We did not go looking for this seemingly insurmountable challenge of standing up to a multi-billion-dollar international gas corporation and the Federal Energy Regulatory Commission.
However, we who have chosen to say yes to the call of following the Gospel of Jesus Christ recognize that at times our religious beliefs will compel us to stand up, stand with and speak out. This moment – specifically, the incursion on our farmland of a natural gas pipeline that will perpetuate reliance on climate-destroying fossil fuels — calls us to speak and act on the message of the Gospel, as well as the documents of our congregation and the Church.
The Adorers' Constitution calls us to become more aware and sensitive to the needs of individuals and society, and to take action on behalf of justice.
Pope Francis, in his encyclical on the environment, appealed to Christians to start a new dialogue about shaping the future of the planet and to protect "God's handiwork," our beloved Earth.
As Adorers, we adhere to our 2005 Land Ethic, which says in part that "we seek collaborators to help implement land use policies and practices that are in harmony with our bioregions and ecosystems."  Fossil fuel is not a sustainable energy source. Methane leakages from drilling wells and loose pipe fittings pose climate risks and contribute to dangerous conditions for the soil, water and air, all things that we need for survival.
As religious women of the Catholic Church, our faith impels us to stand up when the beliefs we hold sacred are compromised and our land is exploited by the misuse of power.
That is why we are here today.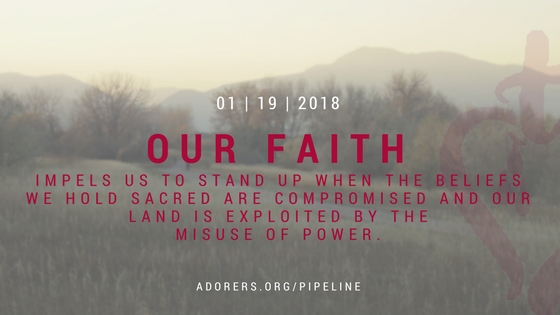 It is not lost on us that today's hearing is in Philadelphia, the city of Brotherly Love. It is our hope that Sisterly Love is a hallmark of the judicial system here, as well.
One of our supporters in our fight, Buddhist James Ebaugh, said the pipeline poses unacceptable threats to the region, state, country and beyond.
He points out that the area at issue is the "mother river region of the Chesapeake Bay Watershed and the Susquehanna River" and that the pipeline "endangers the 388 water bodies it crosses, the 250 wetlands it violates, and the 44 interior forests it permanently fragments.
"To force these Sisters," he goes on to say, "to use their own land to literally expand fossil fuel consumption and exacerbate climate change is both unconstitutional and immoral.

"They are a light on the hill."
Sister Janet McCann, ASC
U.S. Region Councilor
Adorers of the Blood of Christ